Respect the trends, seasonality and life cycles.
Practical advantages of the Planning Wizard
The Planning Wizard fully automates the demand forecast process, while respecting all substantial effects, such as seasonality, trends or current marketing events in progress.
Thanks to accurate forecasts, you can prevent shortages as well as accumulating excess stock.
More information
History analysis
Every day, the Planning Wizard analyzes sales transactions using historical data spanning up to several years.
It automatically calculates optimal values depending on the immediate or anticipated situation and business strategy of your company. The analyses include an important component, being the ABC analysis of the portfolio based on company's KPIs.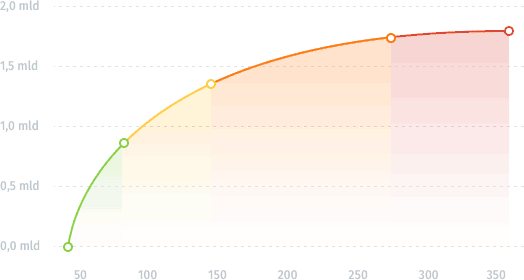 Segment A
Segment B
Segment C
Segment D
Seasonality and trends
The system can automatically identify the seasonal progress on the basis of which it adequately adjusts the ordering process over the course of the entire year. In the event of missing historical data for one of the articles or outlets/warehouses, the system can search for data from a different outlet or the relevant article group.
This also applies to recognizing trends where, for instance, the system gradually increases the orders on the basis of a growing trend.
The system can automatically forecast the seasonal progress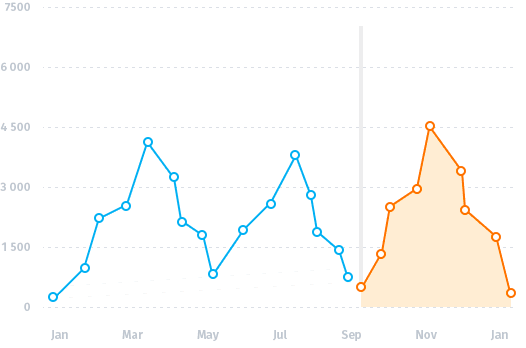 Total sales
Overall forecast
Removing lost sales and extremities
Upon processing the supporting data for accurate forecast, the system automatically eliminates extreme values. When, for instance, there is a historical sale involving extreme values which, however, is only an isolated occurrence, the system eliminates such transaction from the forecast calculation, thus preventing an unnecessary increase in the stock amounts required.
On the contrary, where the historical sales data is missing potential transactions caused by insufficient stock, the system calculates what the sales would have been at that time, had the stock been of a sufficient quantity. Therefore, the sales forecast for calculating the optimal orders will not be underestimated.
The PW system can automatically calculate the sales simulation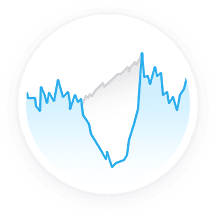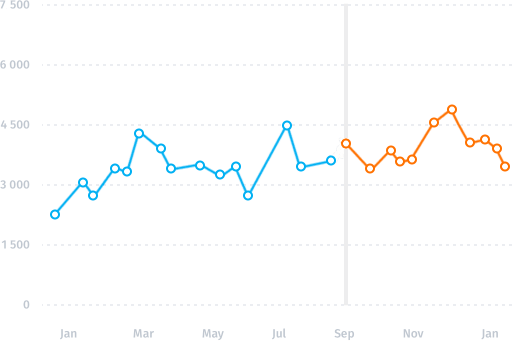 Total sales
Overall forecast
Sales simulation
Sales forecast
The resulting demand forecast will automatically calculate using a selection of more than hundred mathematical, statistical and self-learning algorithms, where the system automatically chooses the method with the highest accuracy. Only accurate demand forecast will allow high degree of automation of purchasing and logistics processes.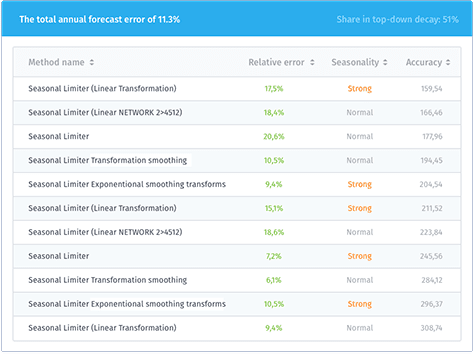 View case studies